ESG RISKS FOR DIRECTORS AND OFFICERS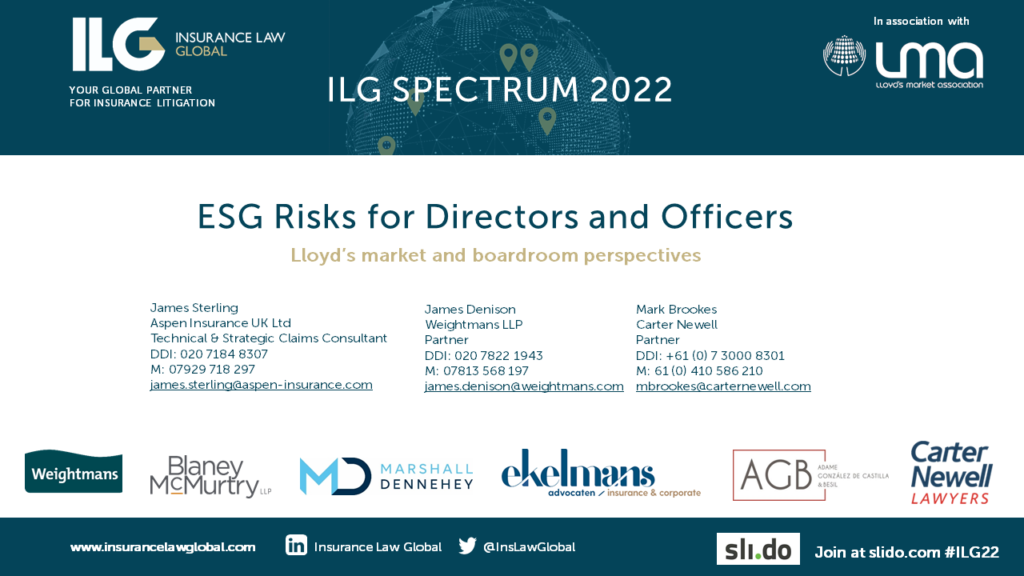 Lloyd's market and boardroom perspectives.
Speakers:
James Sterling, Aspen
James Denison, Weightmans
Mark Brookes, Carter Newell
RISKS ASSOCIATED WITH A CIRCULAR ECONOMY
The transportation of waste and the repatriation of cargo.
Speakers:
Simon Colvin, Weightmans
Alvaro Adame, AGB
Ramiro Besil, AGB
UK AIR ACCIDENT INVESTIGATORS – FRIEND OR FOE?
A critical journey for insurers.
Speakers:
Andrew Krausz, Weightmans
FINANCIAL INSTITUTIONS (WHITE COLLAR/FRAUD)
Speakers:
Natalie Graham, Mosaic Insurance
Jeffrey Rappattoni, Marshall Dennehey
Michael Balmer, Weightmans
THE FCA TEST CASE AND BEYOND
Speakers:
Pamela Freeland, Weightmans
Sarah Irwin, Weightmans
CYBER COVERAGE AND PRESSURE POINTS
Speakers:
Duncan Pease, AXIS Capital
Tom Egglestone, Tokio Marine Kiln
David Shannon, Marshall Dennehey
David Mackenzie, Blaney McMurtry
Speakers:
Jano Bermudes, Marsh
David Shannon, Marshall Dennehey
Casey O'Brien, S-RM
Ben Watson, Zurich Insurance
Speakers:
John Donald, AXIS Capital